Dr. Heiko Enderling named Fellow and elected President-elect of the Society for Mathematical Biology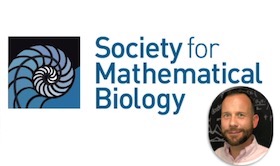 The Society for Mathematical Biology, founded in 1973, promotes the development and dissemination of research and education at the interface between the mathematical and biological sciences. It does so through its meetings, awards, and publications. The Society serves a diverse community of researchers and educators in academia, in industry, and government agencies throughout the world.
Dr. Enderling will begin serving as President-Elect in July, 2020, before assuming Presidency at the SMB annual meeting in July 2021.
EnderlingLab and Shari Pilon-Thomas awarded 5-year NCI U01 award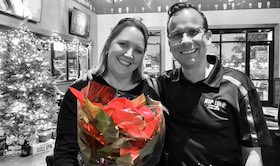 Drs. Heiko Enderling and Shari Pilon-Thomas have been awarded an NIH/NCI PSOC U01 award for their project "Predict radiation-induced shifts in patient-specific tumor immune ecosystem composition to harness immunological consequences of radiotherapy". This project aims to identify radiation fractionations that specifically focus on enhancing immune responses and immune cell infiltration into the tumor as biomarker to predict treatment response.
EnderlingLab receives R21 to predict patient-specific prostate cancer treatment responses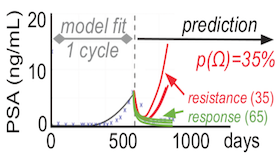 Intermittent androgen deprivation therapy (IADT) is a promising strategy to counteract evolution of resistance in prostate cancer patients. However, successful implementation of IADT requires identification of resistance mechanisms, prediction of responses, and determination of clinically actionable triggers of when to pause and when to resume IADT cycles. 
In this work we propose to develop a mathematical framework to explore the contribution of prostate cancer stem cell dynamics to evolving resistance, and to use these dynamics in computer simulations to reliably forecast the response in subsequent treatment cycles on a per patient basis.