The List laboratory is involved in several basic and translational research projects focusing on the pathobiology and treatment of Myelodysplastic Syndromes (MDS). Dr. List is a pioneer scientist in MDS translational research and has reported many of his seminal studies in top-tier journals. Some of the major research focuses of the laboratory are described here.
The List laboratory is studying the role of innate immune signaling and effectors in MDS pathogenesis. We have provided direct evidence that innate immune activation is closely associated with the development of MDS and is a key driver of its pathobiology. Our collaborative studies have demonstrated that myeloid-derived suppressor cells (MDSC) play key pathogenic roles in MDS development and that S100A9, an alarmin and mediator of chronic inflammation, is a key driver of MDSC expansion and activation in the local inflammatory microenvironment. Further, we were first to demonstrate that MDS hematopoietic stem and progenitor cells (HSPC) undergoe a cell death process known as pyroptosis. Pyroptosis is a Caspase-1 dependent process initiated by inflammasome activation. The inflammasome is a complex that forms when nod-like receptors such as NLRP3, are complexed with full length caspase-1 via an adapter molecule known as ASC.  This results in caspase-1 auto cleavage and subsequent IL-1β cleavage that will potentiate a feed forward inflammatory cascade.  These novel findings provide a unique opportunity to discern biologically-rational targets that can be used to develop therapeutic strategies for the treatment and prevention of this disease. (Basiorka et al. 2016. Blood)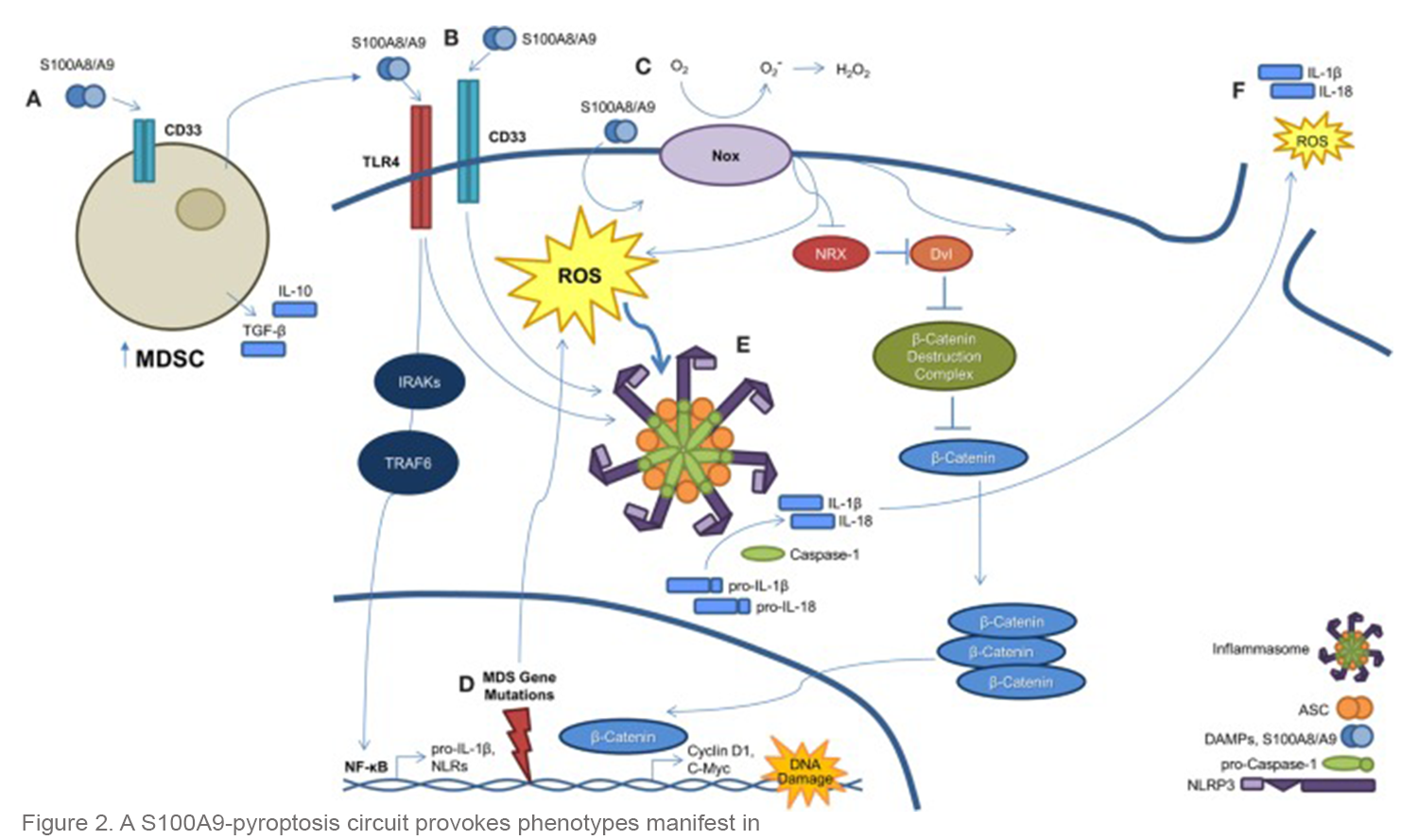 Another important biological phenomenon in MDS are TP53 gene mutations that cause upregulation of p53 in HSPCs leading to pathological changes in MDS development. Hemizygous deletion of the ribosomal protein (RP)-S14 gene encoded within the 5q32-33 commonly deleted region (CDR) disrupts ribosome assembly, causing nucleolar stress and the liberation of free RPs, which then bind to and promote degradation of MDM2. This results in p53 activation and arrest of erythroid precursors. Our preclinical investigations demonstrated that targeting p53 may be an effective targeted therapeutic approach that interferes with the RP-p53 axis in del(5q) MDS to restore effective erythropoiesis. (Wei et al. 2013. Oncogene)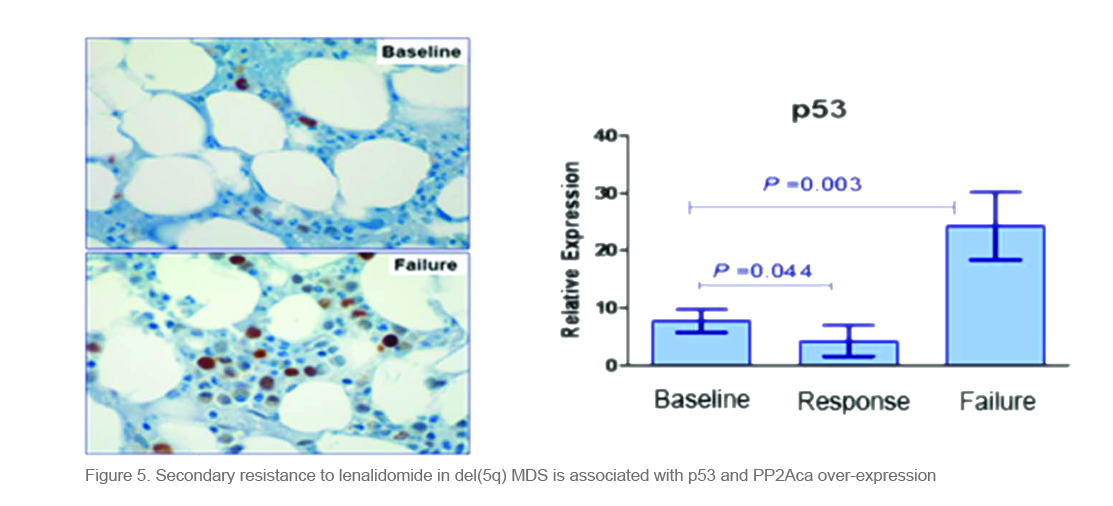 Dr. List is also the Principal Investigator for the intergroup clinical trial [E2905] to study the erythropoietin sensitizing effect of lenalidomide in MDS patients. The laboratory is currently analyzing several biological correlatives on this study to identify potential response biomarkers.
---
Basiorka AA, McGraw KL, Eksioglu EA, Chen X, Johnson J, Zhang L, Zhang Q, Irvine BA, Cluzeau T, Sallman DA, Padron E, Komrokji R, Sokol L, Coll RC, Robertson AA, Cooper MA, Cleveland JL, O'Neill LA, Wei S, List AF. The NLRP3 inflammasome functions as a driver of the myelodysplastic syndrome phenotype. Blood. 2016;128(25):2960-75. Epub 2016/10/16. doi: 10.1182/blood-2016-07-730556. PubMed PMID: 27737891; PMCID: PMC5179338
Wei S, Chen X, McGraw K, Zhang L, Komrokji R, Clark J, Caceres G, Billingsley D, Sokol L, Lancet J, Fortenbery N, Zhou J, Eksioglu EA, Sallman D, Wang H, Epling-Burnette PK, Djeu J, Sekeres M, Maciejewski JP, List A. Lenalidomide promotes p53 degradation by inhibiting MDM2 auto-ubiquitination in myelodysplastic syndrome with chromosome 5q deletion. 2013;32(9):1110-20. Epub 2012/04/25. doi: 10.1038/onc.2012.139. PubMed PMID: 22525275; PMCID: PMC3751397.