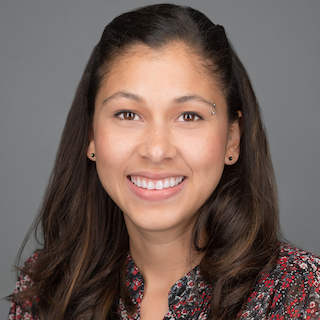 Courtesy of Nicholas Gould, Moffitt Cancer Center, 2018.
Ana M. Contreras-Sandoval, Ph.D.
Postdoctoral Fellow
Department of Molecular Oncology
Moffitt Cancer Center
Research interests: Melanoma cancer genetics, signal transduction, cancer therapeutics.
email | CV | ResearchGate
EDUCATION
University of Navarra (Spain), Ph.D., 2017, Medicines and Health.
University of Navarra (Spain), M.S., 2012, Medicines Design and Biopharmacy.
Universidad del Valle de Guatemala (Guatemala), B.S., 2009, Pharmaceutical Chemistry, Cum Laude.
RESEARCH INTERESTS

Being part of Dr. M. Mann's Lab, I have the opportunity of learning and exploring the genetic events that drive the evolution of skin cancers, with main focus in melanoma. As a pharmacist, I am interested in study the dynamics of cancer, and how this is influenced by the intervention of different molecular cancer therapeutics. In this regard, I am looking forward to use technologies of next generation sequencing, and genetically modified mouse models to pursue a better understanding of the system biology of human cancer. Hence, it is my professional aim to perform cutting edge translational research to scientifically contribute to the development of new and effective cancer therapies.