Welcome to the Sellers Research Lab
---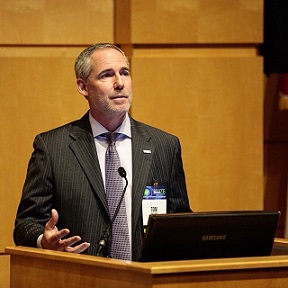 Thomas A. Sellers, Ph.D.
Center Director, Moffitt Cancer Center & Research Institute
Executive Vice President
Moffitt Cancer Center
12902 Magnolia Drive
SRB-CDO
Tampa, Fl 33612-9416
P: (813) 745-1315
F: (813) 449-8126
Thomas.Sellers@Moffitt.org
Download Dr. Sellers' CV
Discipline: Epidemiology, Genetics
Specializations: Genetic epidemiology of cancer risk and outcome
Research Interests: Ovarian Cancer, Mammographic Breast Density, Prostate Cancer
View a video of Dr. Sellers talking to ecancertv at the 2014 AACR conference.
Have you ever wondered why less than 20% of cigarette smokers ever develop lung cancer? Why is it that in some families segregating a deleterious mutation that greatly increases risk for cancer we see the same mutation associated with different cancers, widely different ages at onset, or some carriers never developing cancer at all? Why is it that a proven effective cancer treatment is beneficial to only a subset of patients? My research program is designed to integrate a basic science background in nutrition and genetics and use observational research methods to try to understand questions like these. Over my career the primary focus has been on breast cancer and ovarian cancer, although earlier the focus was lung cancer. Initial interests in disease etiology have evolved over the years to include outcomes after diagnosis and applying genetic information at the point of care to "personalize" treatment and improve cure rates. Ideally, I would like to see us apply genetic and lifestyle information to prevent cancer from occurring in the first place.
Critical to the achievement of this research program is team science. Although I am a dry lab scientist, all of my studies are based on genetic analysis of germline DNA with increasing incorporation of acquired (somatic) events. This absolutely requires collaborations with geneticists, pathologists, and cell biologists. Managing and interpreting the massive volume of data these studies generate requires biostatisticians, biomedical informaticists, computer scientists and clinicians. On this page you'll find a list of some of my key collaborators and staff along with short descriptions of their important role.
Finally, I want to try to articulate my philosophy on life and how that impacts work and my relationships with my fellow faculty, our outstanding staff, and the brilliant students who keep me on my toes. I firmly believe that if you love what you do, you'll never work a day in your life. I've been blessed to wake up every morning and try to mitigate a dreaded disease that impacts virtually everyone in our society in some way or another. What makes that even more rewarding is that doing this involves working with gifted, energetic and stimulating colleagues. Although cancer is a serious topic and I'm passionate about contributing to its defeat, that doesn't mean we can't have fun at work. Finally, life isn't measured by the number of breaths we take, but by the moments that take our breath away.