JKTG foundation funds new project to personalize radiotherapy for breast cancer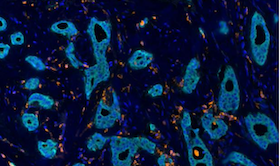 The Jayne Koskinas Ted Giovanis Foundation for Health and Policy has extended prior JKTGF funded research to Heiko Enderling, Ph.D., a faculty member of Moffitt Cancer Center, to support his work personalizing radiation therapy to better fight breast cancer.
This research seeks to decipher the architecture of the tumor-immune ecosystem in biopsy tissues to identify the optimal radiation protocol – on a per-patient basis – to induce robust immunity and eradicate the tumor.
Dr. Mohammad Zahid publishes in International Journal of Radiation Oncology, Biology, Physics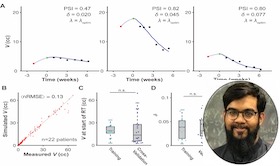 In this article, we simulate radiation response as a reduction in the tumor carrying capacity in the classic logistic growth model. We demonstrate that a simple mathematical model can describe a variety of tumor volume dynamics. Combining historically observed patient responses with a few patient-specific tumor volume measurements allowed for the accurate prediction of patient outcomes, which may inform treatment adaptation and personalization.
Dr. Enderling assumes office of SMB President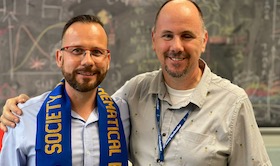 Dr. Heiko Enderling assumed the office of the President of the Society for Mathematical Biology during the SMB Annual Meeting in June. He will serve for 2 years until June, 2023. As president, Dr. Enderling will advance SMB's mission to promote the development and dissemination of research and education at the interface between the mathematical and biological sciences.