Rebecca Bekker and Mohammad Zahid lead new paper in Journal for ImmunoTherapy of Cancer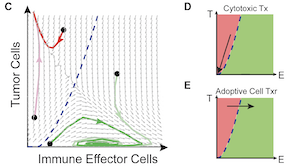 Immunotherapies are a major breakthrough in oncology, yielding unprecedented response rates for some cancers. However, why not all patients have a favorable response remains unclear. There is an increasing appreciation of the contributions of the complex tumor microenvironment, and the tumor-immune ecosystem in particular, to treatment outcome. 
We present how integrated mathematical oncology approaches can help conceptualize the effect of various immunotherapies on a patient's tumor and local immune environment, and how combinations of immunotherapy and cytotoxic therapy may be used to improve tumor response and control and limit toxicity on a per patient basis.
Dr. Mohammad Zahid publishes in International Journal of Radiation Oncology, Biology, Physics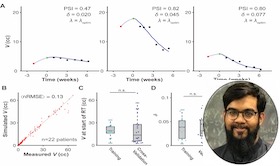 In this article, we simulate radiation response as a reduction in the tumor carrying capacity in the classic logistic growth model. We demonstrate that a simple mathematical model can describe a variety of tumor volume dynamics. Combining historically observed patient responses with a few patient-specific tumor volume measurements allowed for the accurate prediction of patient outcomes, which may inform treatment adaptation and personalization.