We are hiring!
Postdoctoral posting available here and under Opportunities. 
Reach out if you are interested in applying for postdoctoral fellowships and looking for the host.
Follow us on Twitter: @amkarolak (our group) and @ml4onco (ML Department).
September 2022:
Publish in Frontiers in Pharmacology!
Last day to submit a new article to our special edition Research Topic hosted in Experimental Pharmacology and Drug Discovery "Spotlight on Artificial Intelligence in Experimental Pharmacology and Drug Discovery" edited by Dr. Karolak together with Dr. Verena Shoening and Dr. Amit Khurana is on September 6.
More information: https://www.frontiersin.org/research-topics/42907/spotlight-on-artificial-intelligence-in-experimental-pharmacology-and-drug-discovery.
August 2022:
Anne Greene, a former volunteer in our group and a recent USF graduate with Master of Science in Bioinformatics and Computational Biology is now a Data Analyst in the GIO department at Moffitt in the lab of Dr. Jenny Permuth.
Congrats Anna!
Katherine Rodriguez, our former group member and a recent graduate of the University of South Florida (Bachelor's of Science in Biomedical Sciences and a minor in Aging Sciences), is now a research technician in the Bhat Laboratory for the Morsani College of Medicine, USF. 
Congrats Katherine on your new adventure!
July 2022:
Dr. Karolak presents 'A Framework for Mutational Signature Analysis Based on DNA Shape Parameters' at the 2022 Computational Chemistry Gordon Research Conference on Multiscale Modeling of Complex Systems including AI and ML applications for Drug Design in Castelldefels, Barcelona, Spain.
June/July 2022:
We welcome two new members: Dr. Bi Zhao and PhD Candidate Nam Nguyen!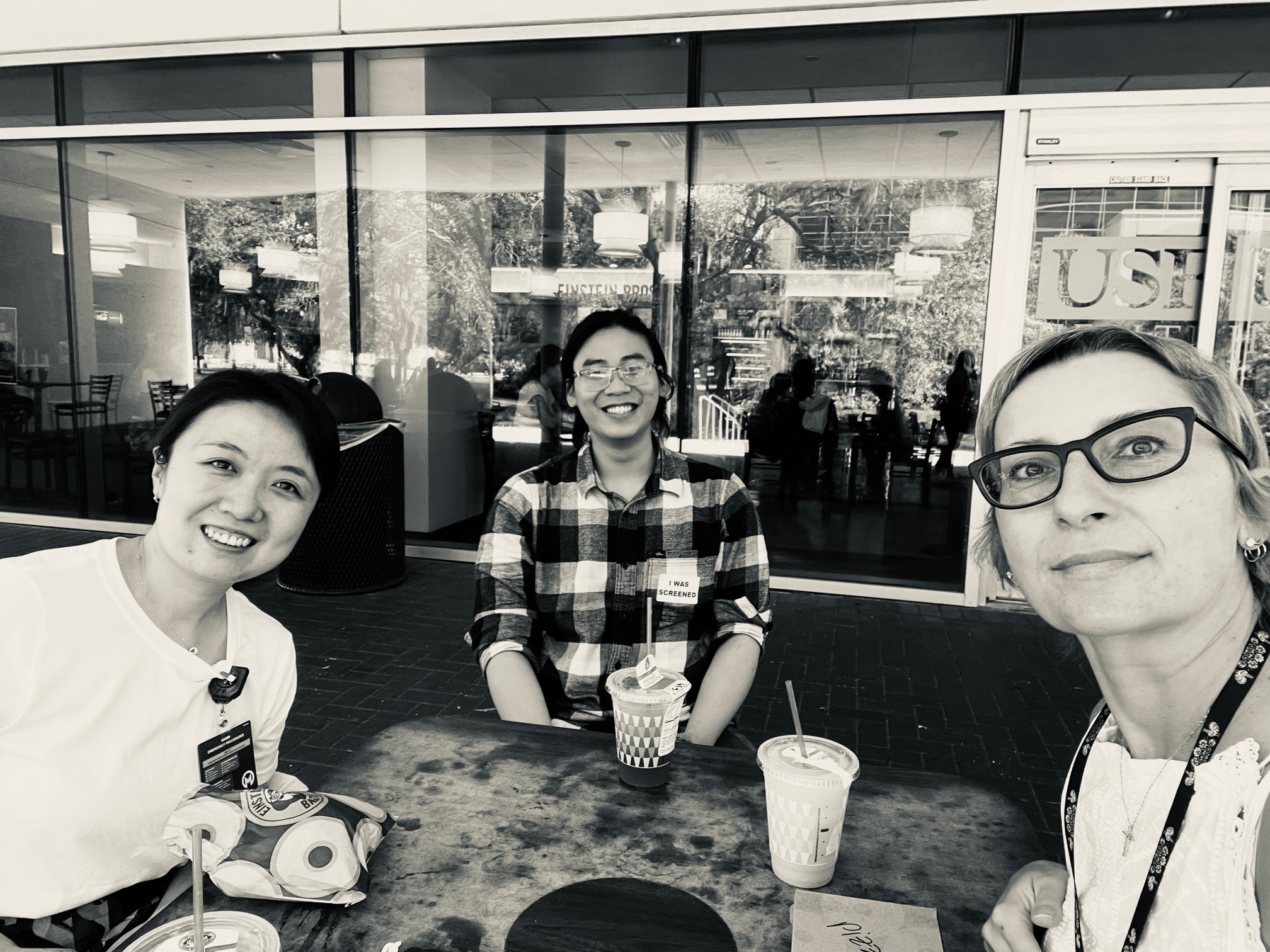 Bi earned her PhD in Cell and Molecular Biology from USF and her postdoctoral training took place at the Virginia Commonwealth. Her experience is in data science, machine learning, and protein structural and functional research. 
Nam is a PhD Candidate in the Department of Electrical Engineering at USF graduating in 2023. He has experience in algorithmic designs for classical and quantum AI applied to cancer research. 
May/June 2022:
Dr. Karolak presents at the ODSi-Moffitt seminars and GI Pancreas Working Group at Moffitt on the 'Machine learning and computational modeling for cancer research'.
May 2022:
With Anna and Katherine graduating this month, we are looking forward to having Dr. Bi Zhao joining us in June and Nam Nguyen in July. 
January 2022:
Happy to announce we have received the Quantitative Science Team Award on RNA splicing in collaboration with dr. Timothy Shaw and dr. Paul Stewart at Moffitt. Reach out if you you are interested in working on Data Integration and Biomarker Discovery. 
January 2022:
Anna Greene pursuing MSc in Bioinformatics and Computational Biology at USF joined our team as a student volunteer. Happy to have you Anna! 
November 2021:
Katherine Rodrigues pursuing BS in Biomedical Sciences joined our team. Welcome Katherine!